News
Categories
Get Social
Current Weather
50°
Clear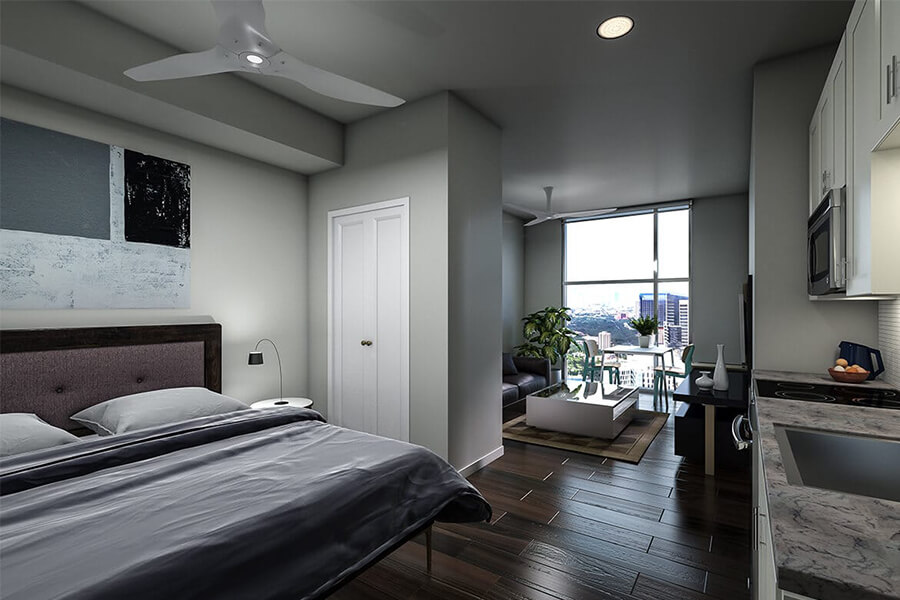 What's your floor plan style: Latitude Med Center
April 27th, 2018
We've created a wide array of beautiful floor plans in every size you could ever imagine at Latitude Med Center. Finding the perfect residence to complement your life is easy. The unique micro-units span 331-505 sq. ft. and perfect for hardworking professionals looking for new apartments near work that are low-maintenance yet elegant. The studio residences (as shown in this image) span 520-684 sq. ft. and offer more space yet easy living. The 1- and 2-bedroom spaces also come in floor plans with dens included. The dens would make convenient home offices or hobby areas. If you're looking for even more spaciousness, the 3-bedroom residences are ideal for families. We've even got penthouses to experience the utmost in spaciousness and luxury luxury. No matter which floor plan you choose, you'll experience amenity-rich, high-rise living that close to everything in downtown Houston. Call us today for more information at 713 527-1000.
Back To Main
Now Leasing
1850 Old Main St.
Houston, Texas 77030
Mon-Thu 9am-7pm Fri 9am-6pm
Sat 10am-5pm Sun 1pm-5pm
10 WEEKS FREE RENT!
12-18 month lease on any floor plan.
Restrictions May Apply. Ask For Details.
Call 281-972-7662 or Contact us online: